Efficient Manpower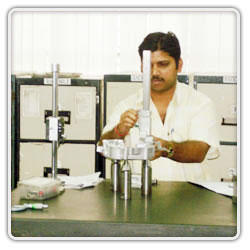 The company has a young and enthusiastic team comprising of mechanical engineers, technocrats, metallurgical experts and other skilled workers who have years of managerial experience and understand the market trends and deliver the products accordingly. Our trained engineering staff is engaged in routine maintenance and operation work. We also have a pool of managers whose job is to check the quality of the products from the initial stages of procuring raw materials to the final stages where the product is packed for delivering. Their job does not end till each stock is dispatched to their respective destinations.


Customization Facility
Having a vast experience in the engineering industry, we understand its technological needs and deliver to match the industry requirements. We offer customization facility to our customers where they can give us their specifications and drawings which suite their requirements. Our efficient engineers and designers work on the details provided by our customer's based on the extensive research conducted by our researchers and come up with prototypes of the details given by the clients.

Our company has the neccessary tools, fixtures, gauges etc for inspection to suit the customer requirement in addition to the visual and general inspection.
Having a wide customer base, AUTO CAST is one of the largest supplier of aluminium castings and completely machined coponenets to many OEM's in the country, having proven its credentials as a reliable supplier of world class products to many sectors of automobile industry. The Die casting division's infrastructure has a modern and fully equipped plant.

AUTO CAST has the capabilty of producing various die casting components and to back it up the compnay has all the machinery required for machining of any type of castings.
The company has all the required set-up for any kind of machining with various SPM's and CNC's machines where any kind of aluminium castings can be machined with accuracy ranging in microns.